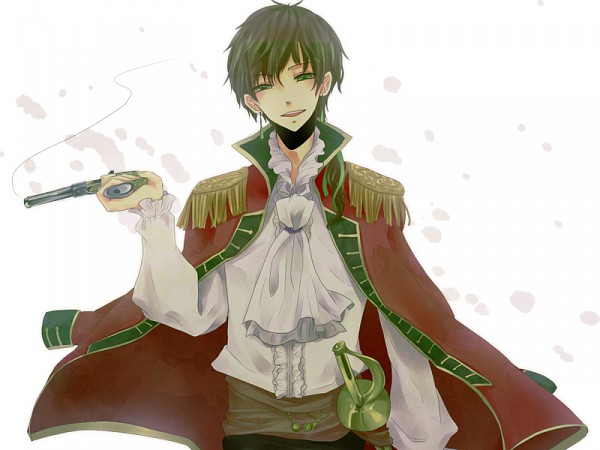 Name:
Johann argon
Nickname:
The noble gas.
Age:
30
Rank:
S
Guild:
Grimoire heart
Sexual Orientation:
heterosexual
THE APPEARANCE
Height:
1 M 75
Weight:
60 Kilograms
Guild Mark:
Left shoulder blade, light grey.
General Appearance:
He is a frail man with hispanic features, he has black hair and olive-brown skin. his clothing consists of an ensemble of fancy and brigthly-colored garments, with his wide-brimmed red hat being the most noticeable feature of it. His demeanor is furtive and nervous, and he often scans around wherever he is located.
THE PERSONALITY
Alignment:
Lawful evil
Likes:
Experimenting with the properties of chemicals, and gases in particular. He has always been intrigued by the interaction of the various chemical gases with the rest of the world, and the interaction of gases with the human body in particular. There is just something exquisite about seeing the effects of a person's lungs liquefying from inside-out.
He also has an appreciation for the finer things in life, with a particular fondness for theatrics and smoking fine cigars.
Dislikes:
Disrespectful behaviour towards him, making fun of his family name or his nickname will particularly draw his ire. though he will never say anything about this to the offending person's face, instead preferring to simply slip them a nauseating vapour and moving on.
Goals:
Restoring the former splendor and wealth of his family, by any means necesarry.
Fears:
Falling prey to his own techniques. Or being foiled in his pursuits by something he didn't plan on happening.
General Personality:
Johan Argon is a child of noble blood. This nobe blood is just about all he has to his name unfortunately. The bad business sense and general incompetence of his ancestors has rendered his once proud lineage to be little more than glorified beggars. Johan perceives this state of affairs as greatly unjust, as he had always been told he was better than the 'mere peasants' groveling about outside the family estate. He looks down greatly upon common folk, and equally so towards fellow nobility for 'abandoning his family in their time of need.' He considers all the world should be his property, and he'll walk over anyone to see that goal realized.
THE MAGIC
Name:
Gas magic.
Element/Type:
Caster
Description:
Gas magic intrinsically grants only one power to its wielder, the ability to exhale from any orifice. any gas that they know the chemical composition of. This might not seem like that great of a power, but in the hands of someone with sufficient knowledge of the chemical properties of these gases, it becomes a fearsome power. However, the magic grants the wielder no protection from his own gases, and neither does it allow them to dismiss the summoned gas clouds once they are conjured. As such, a certaind degree of reservation is required, as to not unceremoniously kill oneself with ones own creations.
OUT-OF-CHARACTER
OOC NAME:Another Character:
N/A
Where do you find our ads:
Word of mouth